ENVIRONMENT
THE GROWING ENVIRONMENT OF CORK
Distribution
Worldwide, cork oak forests cover about 2.2 million hectares, almost all of which is in the Mediterranean countries of Algeria, France, Italy, Morocco, Portugal, Spain and Tunisia, and the islands of Corsica, Sardinia, and Sicily. The most extensive forests are on the Atlantic coast of the Iberian Peninsula.
Quercus suber forests cover almost 1.5 million ha in Europe and 700000 ha in North Africa. Its distribution is fragmented, suggesting that it is mainly relictual. The species has also been introduced to other countries outside the Mediterranean region in the twentieth century, either in order to produce cork or simply as an ornamental tree, and limited numbers can be found in Bulgaria, California, Chile, New Zealand,southern Australia and Turkey.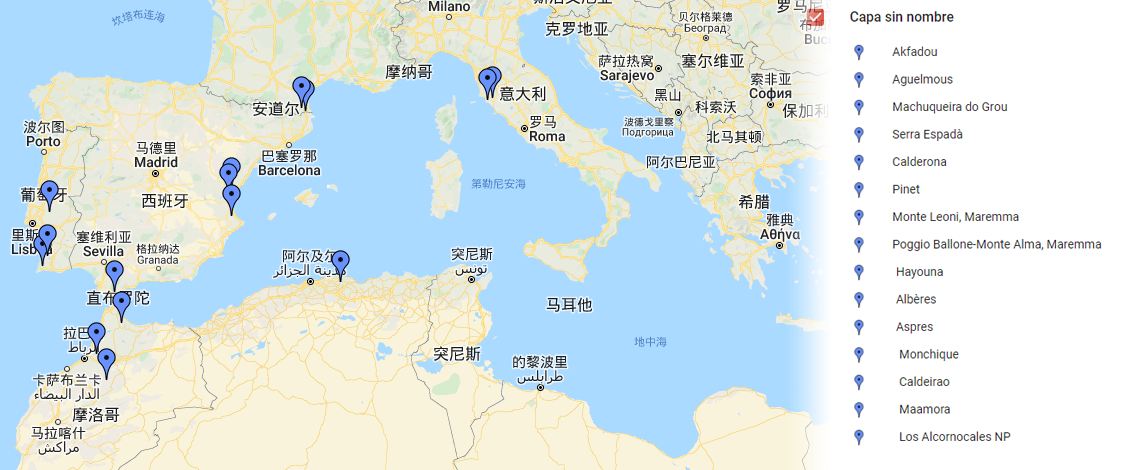 Habitat and Ecology
Cork oak is normally found in forests or open woodlands as the main tree species, or together with other Mediterranean trees such as maritime pine (Pinus pinaster) and other deciduous oak species. It is usually distributed in marsh-scrub Ecotone or scattered over dunes near ponds.The cork oak can grow in sandy soil with low levels of nitrogen and high levels of potassium.It can grow in barren land with little rain or nutrition.It grows best in areas with hot summers and cold, wet winters. It is most commonly found around 300-600 m elevation. This oak tree's success depends on abiotic factors such as temperature stability and periods of drought. Biotic factors such as plant pathogens and insect pests also play a role in the cork oak's survival.
Coverage is usually sparse - around 30-60 trees per hectare.It frequently occurs in managed open woodland systems known variously as dehesas in Spain and montados in Portugal, in which scattered mature trees coexist with an understorey composed of grassland for livestock, cereal crops and shrubland. It needs an average temperature of around 15°C to thrive and cannot tolerate very low temperatures (below -10°C),which limits its northern and altitudinal range (most cork oak forests are found below 800m in elevation). Apart from this it can survive in a variety of conditions and soil types, although it prefers sandy and lightly structured soils. It has a number of adaptations for growing in a warm and dry climate: it has an extensive and deep root system allowing it to cope well with drought, and it can also close the stomata on its leaves to restrict water loss. However, it can also grow in areas of high rainfall (for example in some north-west areas of Portugal which have an average annual rainfall of 2400mm). In Mediterranean regions, fire is an ever-present hazard. Cork oak is well adapted to cope with fire, as its thick bark protects the tree enabling it to re-sprout from the stem after fire damage - the only European tree species with this capability.